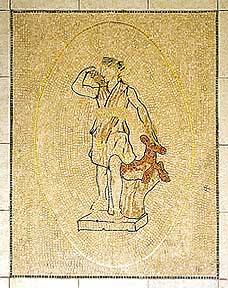 Goose Island Goose IPA
* picture credits
copyright may apply
RATINGS:
2495
WEIGHTED AVG:
3.54

/

5
IBU: 55 EST. CALORIES: 177 ABV:
5.9%
COMMERCIAL DESCRIPTION
Our IPA recalls a time when ales shipped from England to India were highly hopped to preserve their distinct taste during the long journey. The result, quite simply a hop lover's dream. And this classic ale adds a fruity aroma, set off by a dry malt middle, to ensure that the long hop finish is one you'll remember.
Tick this beer for your profile
Currently 0/5 Stars.
1
2
3
4
5
Rate This

Statistics

Locate Sellers
Most Recent
Top Raters
Highest Score
Rated By
Ticked By
2.8
DCLawyer (2908) - Falls Church, Virginia, USA - OCT 21, 2017
Finally got around to trying this, bottle from Harris Teeter. SA glass. Lite copper with big frothy white head. A: piney hops over strong caramel malt, wet cardboard. T: metallic pine and floral hops, cardboard, damp grains. Nope.
3.1
danjs5 (270) - AUSTRALIA - OCT 21, 2017
Clear amber pour. Light peachy nose. Light smooth and sweet in flavour. Fairly simple and clean. A little fizzy and thin. Not a stand out. O.K ish.
3
Piepenhenrich (1195) - Steinbach, GERMANY - OCT 20, 2017
From bottle. Very strong hops aroma with some citrus. Taste is hops, reasonable bitterness, bitter palate. Good.
3.2
konungen (642) - - OCT 12, 2017
Helt ok men inget häftigt direkt. Drucken vid flertal tillfällen på fat i NY. ---Rated via Beer Buddy for iPhone
3.7
macca147 (393) - Sydney, AUSTRALIA - OCT 8, 2017
355ml bottle. Pours a pale biscuity gold with a white head. Aroma: Pine, citrus, grapefruit, mild caramel malt notes. Pleasant aroma. Taste: Pine, citrus, grapefruit, mild mango, peach, caramel malt flavours. Medium bodied. Moderate carbonation. Moderate to high bitterness that lingers on the palate. A basic flavour balance, but nevertheless it is quite tasty. Would happily drink this as my regular.
4.1
sephyrott (201) - - OCT 6, 2017
33cl from bottle bought at Waitrose. Well-balanced IPA, slightly citrusy, hoppy and strong flavour
2.2
ALLOVATE (3056) - Perth, AUSTRALIA - OCT 6, 2017
So, now brewed under contract in Australia by the macro monster CUB. This shows in many ways from label, to aroma........, to flavour. Sudsy, messy white crown off the pour is quickly diminished to a mere island of white. Radiant, orange amber body, bright as bright. Slightly vegetal, boiled cabbage, oxidised metal and rubbery tinge to the otherwise spicy and earthy hop and biscuity malt nose. There is a hint of bay leaf and rosemary in there too. Malt forward, chewy, barnyard grain and cereal-like right through to the assertively bitter and slightly acrid finish. Light honey sweetness upfront. Chalky and mineral-like mouthfeel. Weedy, acrid hops (tetra?) last well passed their welcome. Body is light to medium with spritzy carbonation flattening to still as it head south. Really disappointing. I don't for one minute think this represents the original ale produced before s#!t hi the fan with Goose Island. Unbalanced mess!!! (33cL, BB 07/02/18, 1st Choice Liquor, Riverton)
3.1
Alex60 (321) - - OCT 5, 2017
bouteille 33 cl - couleur guivrée, mousse blanche, odeur florale, goût sur le citron, légérement sucré, mangue et ananas, plutôt bonne
3.8
cryptopathic (3) - Florida, USA - OCT 1, 2017 does not count
I'm am overall very happy with this Beer. The citrus Orange taste is very light and delicate . Hopes is complete for a iBU 55 . The taste is out of this world . Thanks for destroying my taste in Heineken and Stella Artois !
3
ehaak26 (654) - - OCT 1, 2017
Sample from a bottle at Wegman's. Aroma of citrus and bread. A little thin.
We Want To Hear From You
Join us! RateBeer is made by beer enthusiasts for the craft beer community. Your basic membership is free and allows you to read all beer ratings. Click here to create your account... and give your opinion!
Join Us »
Page 1 2 3 4 » 257
Tick this beer for your profile
Currently 0/5 Stars.
1
2
3
4
5
Rate This

Statistics

Locate Sellers
More India Pale Ale (IPA)s By Style
Lawson's Finest Ava IPA 93
Beer Here Jule IPA 92
Selins Grove Olde Frosty IPA 93
Warpigs First Resort 86
Country Boy Cliff Jumper IPA 87
Beerbliotek Colonial Hipster 86
Kopyra & Widawa Kuguar 97
Crooked Stave Single Hop Mosaic IPA 65

canadá ganso usa font-size: 12px; line-height: 1.5;">